Are you not yet sure that Interactive Marketing is the way to go?  Well, a recent study by Forrester Research, Marketing Technology Adoption 2011 shows just where both SMB and Enterprise businesses (over 1,000 employees) stand in terms of adoption of this interactive marketing realm.
Interestingly enough, Technology Leaders outpace Technology Followers even though it's a close split down the middle between the two.  Here's how it breaks down:
Early Adopters  21%
Fast Followers  32%
Average Adopters  27%
Laggards  20%
The largest group of us are Fast Followers meaning that if we see a proven technology working in another industry, we will try to apply it to our own industry.  Early adopters often adopt emerging technologies.   Average Adopters want to see it work in their own industry.  Laggards, well, they only adopt tried and true technologies.
Now, the true Customer Intelligence professionals amongst us are focused on some key themes.  Of course, a larger portion of the 137 respondents came from Enterprise firms so they are skewed a little more towards Enterprise firms than SMB firms.  But, here's how it breaks down:
Branding – Improving the online customer experience
Overall Brand Management – multiple online channels and multiple traditional channels
Measurement – programming to measure and track; customer intelligence is key
Embracing new channels – adoption throughout the business is no easy task
Data Management – Integrating offline, online and social data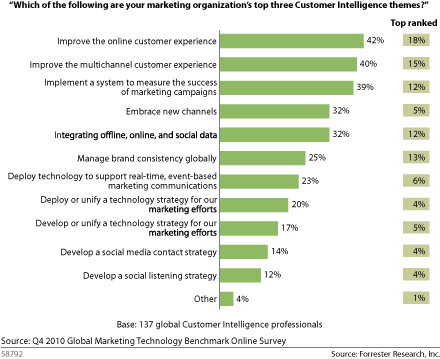 Now, what are we good at and where do we want to go?  Well, the survey indicates that people are really adopting some of the best and trying to adopt where things will blossom most.
The Top Three areas of Adopted Technologies are definitely:
Web Analytics (Measurement) – 84%
Email Delivery – 69%
Content Management – 53%
Now, it's interesting that the most highly adopted marketing technologies are the ones which can be measured most readily.
Next, here's where we would like to go as with branding & marketing.  The Top Five Areas where we would like to Adopt Marketing Technologies are:
Mobile Technologies – 30%
Customer experience management/session recording – 23%
On-site behavioral targeting – 21%
Listening platforms – 20%
Online testing – 19%
Clearly, marketing professionals are interested in delivering brand experiences, being able to monitor those experiences and measure them too.  So, nothing too surprising, but if you haven't been adopting these marketing technologies, know that you are not the only one with challenges in measuring results
Seek out Interactive Marketing professionals, like ourselves, since part of our job is to put measurement in your programs and help you learn where to develop a healthier brand image and an increased audience, no matter what size of business today.